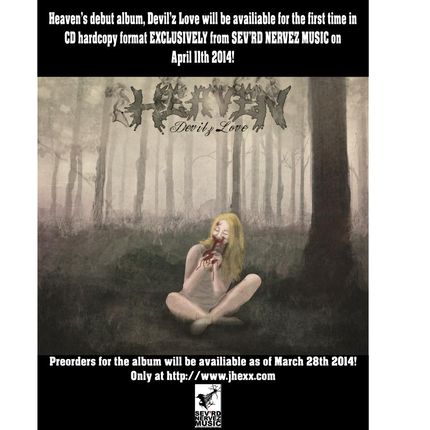 Heaven's debut album, "Devil's Love", will be available for the first time uncut in CD format! This album will also be available in digital format as well in your favorite stores such as ITunes, Amazon, Rhapsody and more!
Featuring artists such as Intrinzik, Insane Poetry, Scum, McNastee, Draztik, Jason Porter, Mc Val, Basick, Komatose, Playboy The Beast, and Sodoma Gomora, this album has a little bit of everything for any taste of musical hip hop ear you have! Russian artist Heaven's debut is nothing short of a excellent release, limited to a 100 CD run, exclusively through Sev'rd Nervez Music! Preorders will start as of March 28th 2014, so get your preorder secured, once it is gone, it's gone!
So take care until then, and stay a Dark Mind That Thinks Alike!
Yours Truly;
The J.Hexx Project