Here is the text of the awesome review of The Devilman LP as written by Chad Carsten himself! Thanks to Faygoluvers Heaven and Scottie D for the mention of the album! Four out of five star review!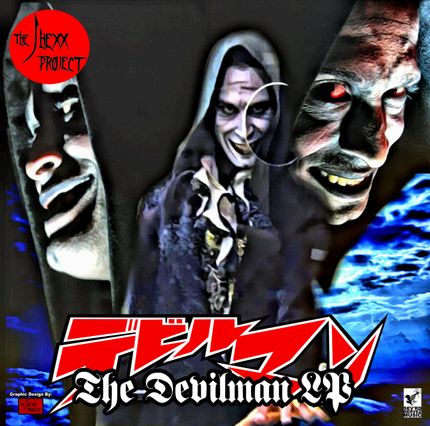 The. J Hexx Project has been doing nothing but releasing solid albums since 2008's The Seven Doorz To Death/ Twitch of the Deadz Nervez LP . Fans of the Horrocore Hip-Hop genre caught on to J. Hexx's own style of Giallo Hip-Hop with the Underground 2010 hit "Mountain Of The Cannibal God". Ever since the release of Mountain Of the Cannibal God, J. Hexx's fan base keeps rapidly growing, and his label Sev'rd Nervez Music has become an underground force to reckon with.
Fast forward to the end of Summer and the start of the 2015 Fall season , The J. Hexx Project came out of nowhere with the release of "The Devilman LP". It just dropped one day with no real promo and gave the underground a new ass whooping that the horrorcore scene desperately needed. The Devil Man LP is an actual representation of the psychosis of a serial killer, and his or her existence for the horrors they commit. It explains exactly what a person in that state of mind does and reacts and why they have an undying urge to kill. It is due to having no emotions and an upbringing that destroys their views on the value of life. Having the ability to take life, like a god , drives them to kill more and more. Why kill? Why have that drive? It's simple, when you are devoid of emotion or value of life, killing makes them feel POWERFUL!
The album was inspired by the 2015 film "Headless". It shows how and why they kill, what drives them to kill, and where and how it begins.  Most horrorcore artists say stab you up and kill kill kill, but no one explains why this happens and where it comes from. J. Hexx wanted to be one of the first to show the psychological side of the serial killer through the Devilman LP. So, he took a very psychological approach to the narrative, by being that person, as well as a very visceral and visual approach to the horrors one's mind can produce into the action of killing. There are skits in between each song that prelude to what the next song will be about and connects to one big story.
Major Highlights
The opening intro of the albums kicks off nicely by paying homage to the glory days of Grindhouse films theater openings. It makes the listener want to grab a big bowl of popcorn and sit in the dark while wearing headphones…like a grindhouse film, but in audio form.
The first actual track on Devilman is "Rage (Skull Fucker)". Yes, a morbid title, but when the beat kicks in, it's all mellow, laid back, 1970's style guitar that you can't help but instantly groove to. First-time listeners definitely wouldn't expect any type of horror elements on this track judging by the nature of the beat, but then it gets into the subject matter of why the serial killer wants kill his victim.  It creates a new style of horror music never heard before within the horrorcore hip-hop genre. Diving into the subject matter of rage, the killer apparently had a bad childhood and was constantly locked in a cage by his mother.  This created a deep rage against humanity in general, and brought out histhirst for blood. J. Hexx delivers an old school 90's New York hip-hop style flow and he straight up kills it lyrically! He's able to take the listener inside the darkness as if they were somehow sucked into a physical version of the song and were witnessing all the lyrics right in front of them. Overall, Rage (Skull Fucker) kicks the album off nicely and was the right choice as the first track.
"Burn Your Soul Up" is a chance for the J. Hexx Project to show that he is an emcee at heart and real Hip-Hop flows through his veins. He's not afraid to venture into new territory by holding nothing back and even sings on the hook. It's an "I'll show you" attitude type of song and Mr. Hexx isn't going to let anyone get in the way of his original flow.
"Thoughts Of A Empty Heart" is a grindhouse hip-hop banger! It goes straight to the jugular vein and bleeds out lyrical genius. You can't deny J. Hexx's strengths as a storyteller here. It's beyond creative. The chorus is a neck snapper and brings forth some minor death metal influence. Another strong point of the song is the scratching records and the classic metal riffs.  They give the track more life and it's own distinctive sound. Definitely do not skip this track. Horror fans around the world are bound to keep this song close to their horror filled hearts.
The production on "As You Stare Into The Face OF Death" is weird, but unique and super tripped out with distorted sounds of bells. You can tell Italian Giallo films greatly influenced the sound behind the beat. Vocally, J. Hexx goes all out and holds nothing back as if he were Mike Myers going on a rampage in New York City. Guest rapper Majin is a major highlight, for he tears this beat apart! The other guest feature "Tha Morbid One", holds his own lyrically too.
On every J. Hexx Project release, there is somehow always a perfect choice for a closer. "Eradicate Your Flesh" is that perfect closer and it's probably the most brutal Mr. Hexx has ever been lyrically. It's straight forward, violent, and takes J. Hexx into a new level of gore. It's beat is based around classic piano and is a slower tempo, but that's what makes the production mesh so well with the lyrical content. It is destined to leave fans bludgeoned beyond recognition musically and the hardcore fans of J. Hexx wouldn't have it any other way.
The final verdict: The Devilman LP proves that there is still a lot of life left within the Horrorcore Hip-Hop genre and the Giallo style of the J. Hexx Project will continue to rise up and keep making a name for himself by keeping true horror alive.
Read the full review here: http://www.faygoluvers.net/v5/2015/10/the-j-hexx-project-the-devilman-lp-faygoluvers-review/