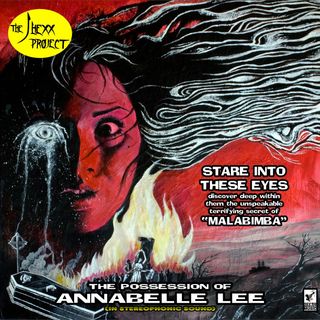 March 27 2015
It is official! The album launches this day and pretty soon I will have a preorder package information here! There is a few cool things:
The cd art itself will be one of two random "mock" vinyl prints, and it will be shipped at random so whichever one you get, awesome! Second there will be posters, we are trying to figure out if we do one type of poster (USA Version with alt title "The Dominion") and if we should include choices of Italian and even Japanese ...styled posters. Same art just different text specific to each region. Let's see what happens on the poster front...
The album runs at 42 minutes approximately.10 songs. No samples, live instrumentation. Desecrated did all the music production, while I handled vocal duties. I am very proud to say it is my best album, ever up to this point and it has been a long and terrifying journey into the world of demon possession!
The Limited Edition Preorders will come with one poster and also a 12 page book, The Possession of Annabelle Lee: The Official Companion Guide, which will provide insider information about the conception and creation of The Possession of Annabelle Lee album from the artist and producer, as well as some special guests. There is also an option for just the CD only, no bonus stuff!
So support your local artists, support the underground and best of all support your local artists and musicians in your respective areas! Take care and until next time...
DARK MINDS THINK ALIKE!
Here are the links for the Cd Hardcopy and Digital Preorders. Keep in mind Digital preorders do not get the poster and magazine , it is only for the music download!
CD HARDCOPY WITH MAGAZINE AND POSTER PREORDER
http://www.jhexx.com/cds/the_j.hexx_project__the_possession_of_annabelle_lee/
DIGITAL MP3 ALBUM PREORDER ONLY
http://www.jhexx.com/digital_music_downloads/the_j.hexx_project__the_possession_of_annabelle_lee/